HELPFUL READ-A-THON LINKS & TOOLS: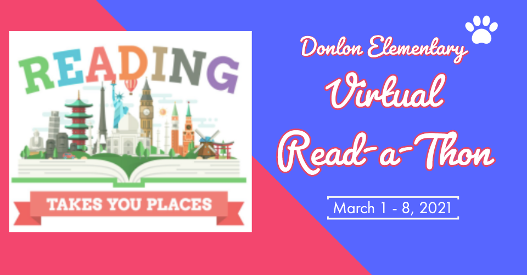 The Donlon PTA is excited to announce our first-ever Read-A-Thon in conjunction with Read Across America week. Registration begins tomorrow!
February 22: Registration begins for the Read-a-Thon. Register your child to be eligible for raffle prizes. To register and begin collecting donations, go to www.pledgestar.com/donlon
March 1 - March 8: Track your child's reading minutes for the week. Enter reading minutes in PledgeStar.
March 9 - March 14: Finish collecting donations! And make sure all of your child's reading minutes are logged in PledgeStar to compete for class and individual prizes.
Have a question? Ask your Read-a-Thon Team: