A LOOK AHEAD:
11/9 - 11/22 Virtual Scholastic Fall Book Fair
11/16 Fundraising Event at SideTrack Bar+Grill
11/16 Minimum Day (Gr 4 & 5)
11/17-11/19 Minimum Day (K-5th)
11/20 No School (K-5th)
11/23 - 11/27 Thanksgiving Break (No School)

Next PTA General Meeting
Tuesday, February 2, 2021
Or
Text DonlonPTA
to 22828
Phone Numbers
Donlon Administrative Office
Phone: (925) 426-4220
Fax: (925) 484-5423
24 Hour Attendance Hotline


Earn money for our school while shopping at Amazon. It's easy and benefits Donlon Elementary!
Click here to start shopping!
Donlon ReOpening of School: January 2021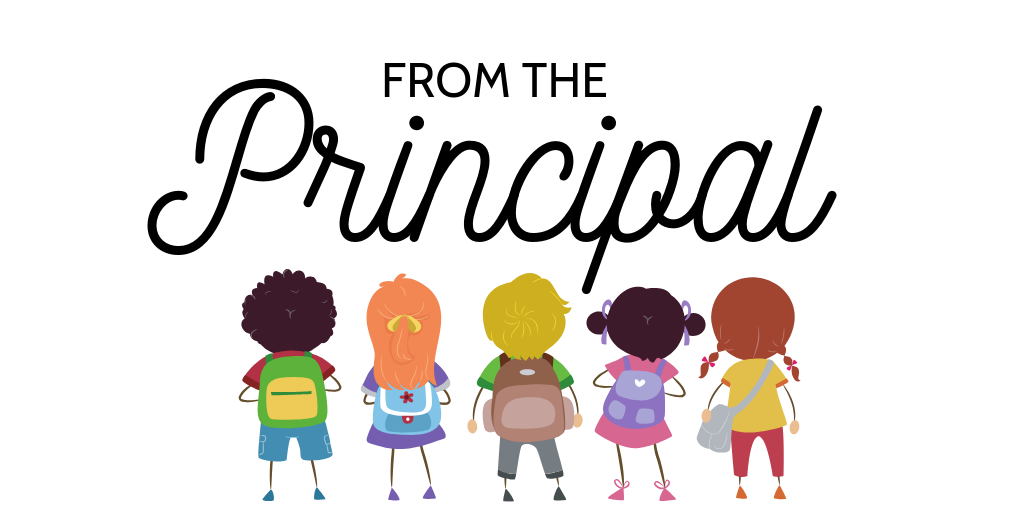 Principal Gates and Vice-Principal Stothers hosted several check-in meetings regarding the plan to return to school for all students grades TK - 5th in January 2021.
Click HERE to add your questions, concerns AND suggestions. You can also view other question's responses.
CLICK OR COPY AND PASTE IN YOUR BROWSER TO VIEW --https://docs.google.com/document/d/1mH_nP9xt-ItyoPb-m-sCL8Snt4tuJpKq1lQX8SnZbxM/edit
In addition click HERE for links to informative documents also shared by Principal Gates you might find useful.
CLICK OR COPY AND PASTE IN YOUR BROWSER TO VIEW --https://docs.google.com/presentation/d/14eoDm4dwf1AuWFQJvEoNlEgYnD7wYXrFVG-BkfqV2W0/edit?usp=sharing
VIRTUAL SCHOLASTIC FALL BOOK FAIR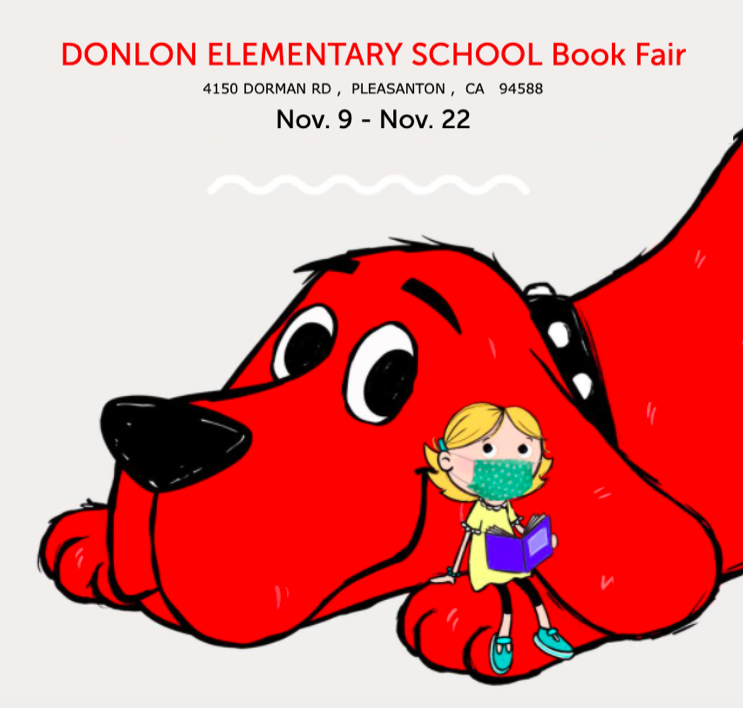 While we can't have our traditional book fair in-person, Donlon PTA will again be hosting a Virtual Fall Book Fair to support our school. It will run from November 9th - 22nd and it's a great time to stock up on books for the holidays and our Read-a-thon, coming in March!
https://www.scholastic.com/bf/donlonelementaryschool1
A portion of the proceeds will come back to our school to purchase more community books! Book orders ship free at $25. This is an easy way to help support our school!
FUNDRAISING EVENT - sidetrack bar+grill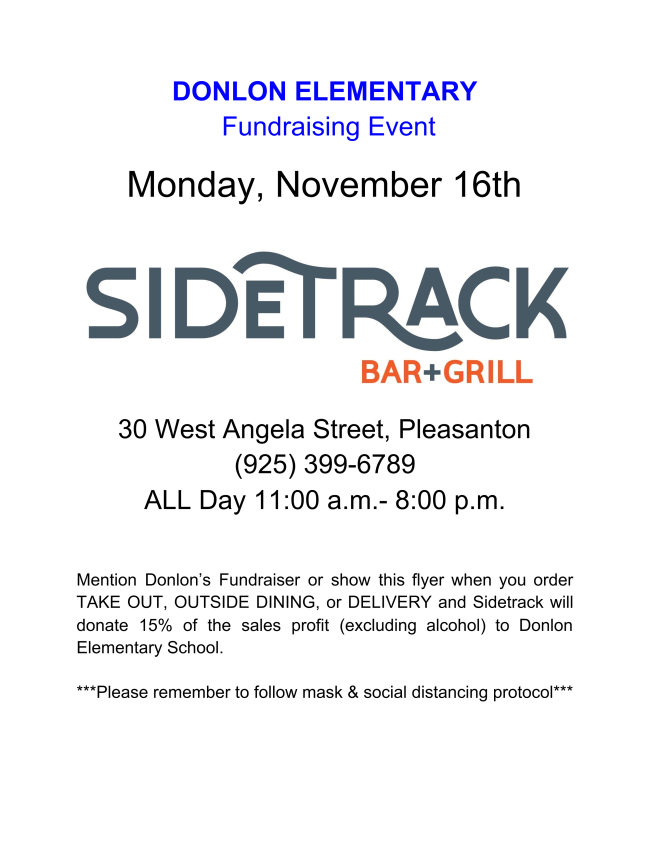 HELP BUILD THE BEST PTA TEAM!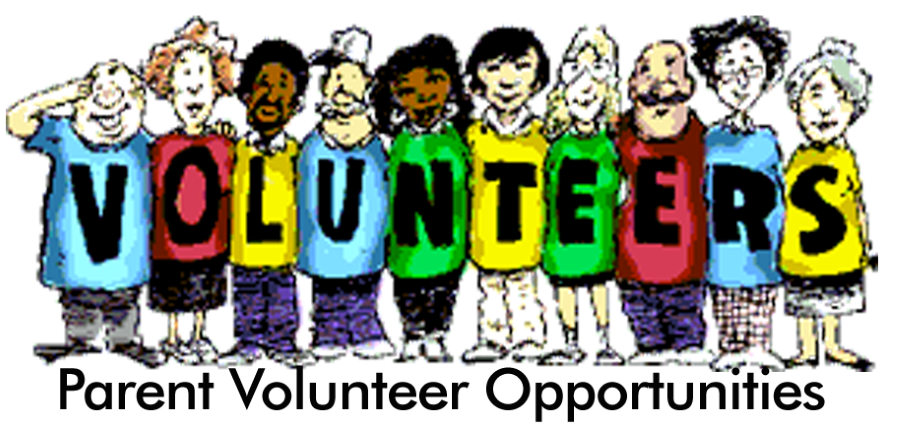 Help us find Donlon parents who are ready to make a difference at our school! Join the Donlon PTA Nominating Committee!
The nominating committee finds people to fill the vacancies in next year's PTA Board.
The Nominating Committee comprises 4 members and 1 alternate. This is a very important role and it is by far one of the easiest ways to get involved at Donlon!
Several current board members will have completed the maximum term and/or will be moving on to other volunteer positions at our feeder middle school, Hart Middle School.
Next year, there will be several open board positions (click HERE for PTA Board Job Descriptions):
Auditor

Historian

Parliamentarian

Secretary

VP of Activities

VP of Fundraising

VP of Membership

Executive Vice President
The commitment is only for approximately 6-8 weeks and you control when and how often you meet.
There will be someone to assist and advise the committee throughout the entire process as needed.
If you are interested, please contact PTA President, Shareka Pentony at president.donlonpta@gmail.com
CNS Meals for Thanksgiving Week Break
Child Nutrition Services will be providing meals for children over the Thanksgiving Break. Families will have the option to pick-up a week's worth of breakfast and lunch on Monday, November 23rd at Amador Valley High School. Pickup will be offered from 10am - 1pm. If your family is interested in participating, pre-register by completing this FORM.
PUSD E-10 UPDATE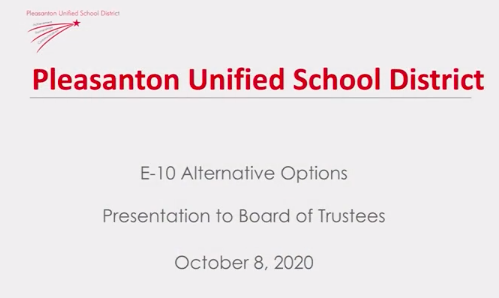 The District began a planning process that culminated in a December 18, 2018 decision where the Board selected the option to construct a new 4th and 5th grade elementary school (E-10) at the Donlon School site for about 500 students. Since the design work of the project, there have been several changes and considerations regarding implementing this new project.
The school board held a meeting on Thursday, 11/12/2020 to continue the discussion as it relates to alternative options to the current E10 plan. At the meeting, staff presented the options and discussed the benefits, drawbacks and financial implications of each option. The full presentation can be found BY CLICKING THIS LINK (scroll down to AGENDA ITEM 12.1). Additional background and summary information related to E10 is also included.