A LOOK AHEAD:
05/03 - 05/07 Teacher Appreciation Week
05/05 - School Site Council Meeting at 5pm
05/14 - Minimum Day
05/17 - 05/30 Virtual Book Fair
05/19 - Virtual Aloha Family Bingo Night, 6:30-7:30pm
05/26 - 5th Grade "Memory Lane" Event
05/28 - Last Day of School (Minimum Day)

Next PTA General Meeting
TBD
Or
Text DonlonPTA
to 22828
Phone Numbers
Donlon Administrative Office
Phone: (925) 426-4220
Fax: (925) 484-5423
24 Hour Attendance Hotline


Earn money for our school while shopping at Amazon. It's easy and benefits Donlon Elementary!
Click here to start shopping!
Teacher Appreciation Week: May 3rd - 7th, 2021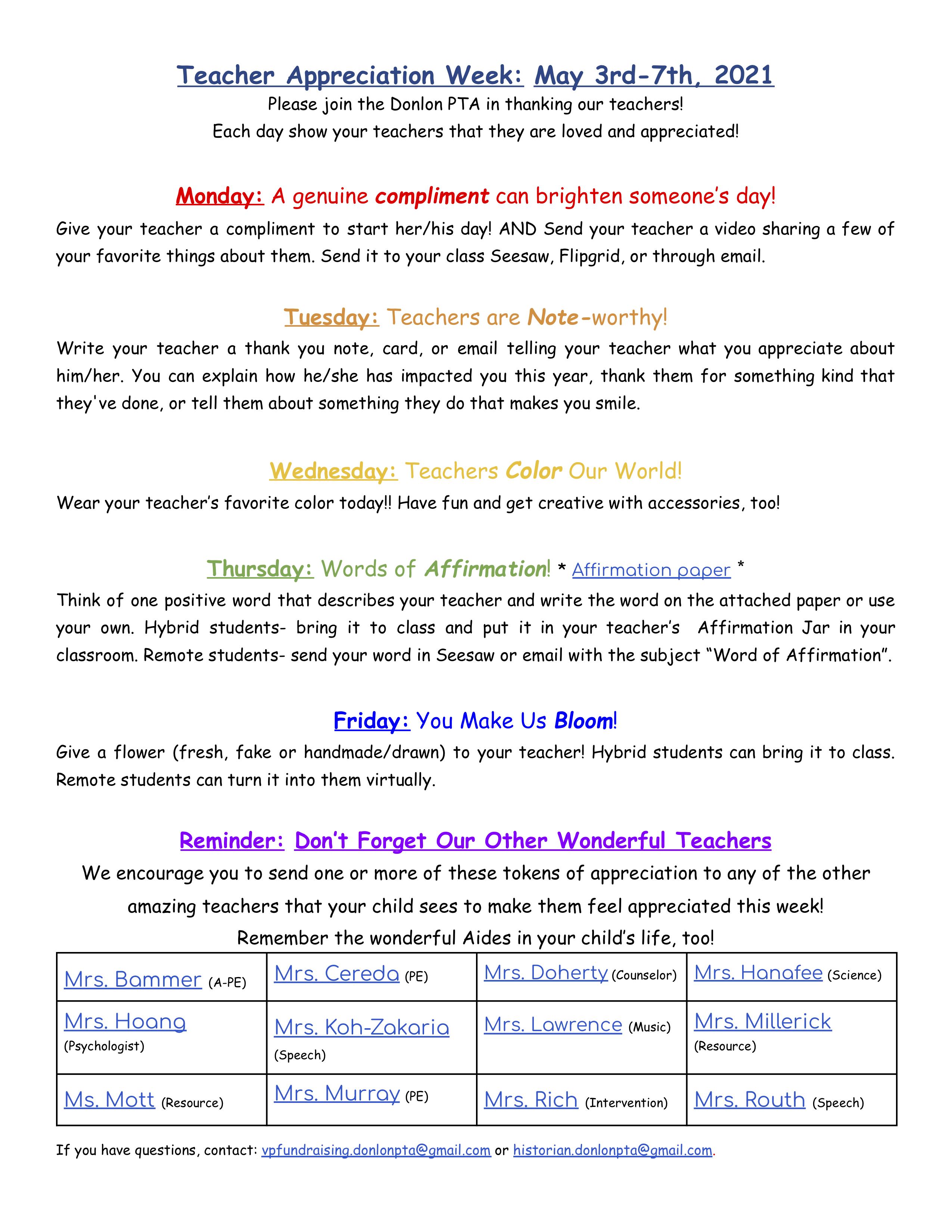 Happy Teacher Appreciation Week! Join us for our annual celebration to show our gratitude to our hard working and dedicated Donlon teachers. See image for daily themes.
Please contact Cristina Romano at vpfundraising.donlonpta@gmail.com and/or Jaime Jackman at historian.donlonpta@gmail.com with any questions.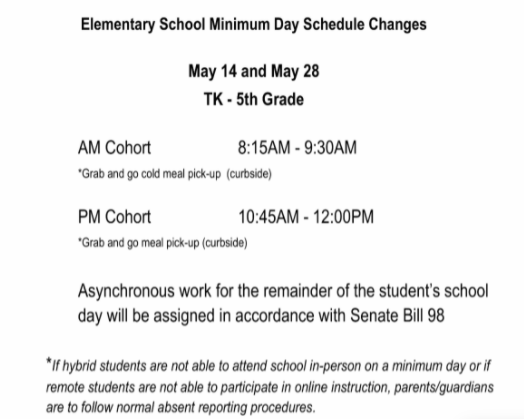 VIRTUAL BOOK FAIR: MAY 17TH - 30TH

It's Book Fair time again! This year's Fair runs May 17th-30th. Be sure to get your kids summer reading ready by shopping through our Spring Virtual Book Fair. Donlon gets 25% back when they order through this link. Book orders over $25 ship free.
https://www.scholastic.com/bf/donlonelementaryschool1
Happy Summer Reading!
Save the Date - Virtual Aloha Family Bingo Night!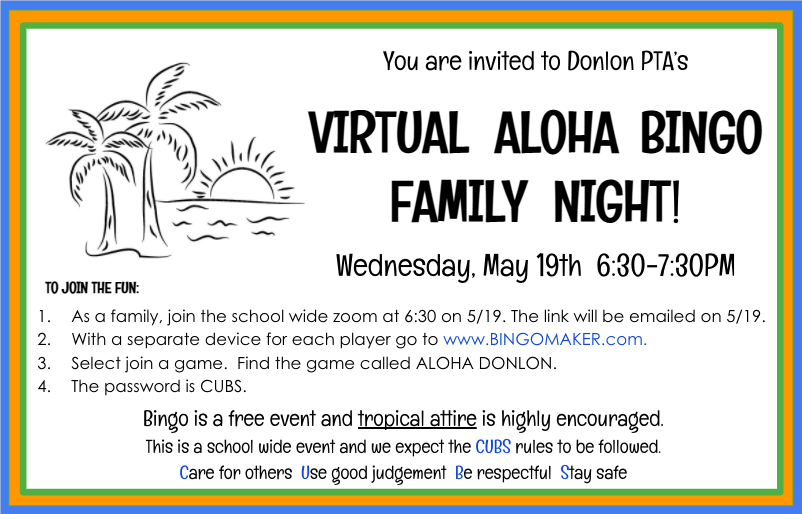 ARE YOU MOVING BEFORE THE 2021-2022 SCHOOL YEAR?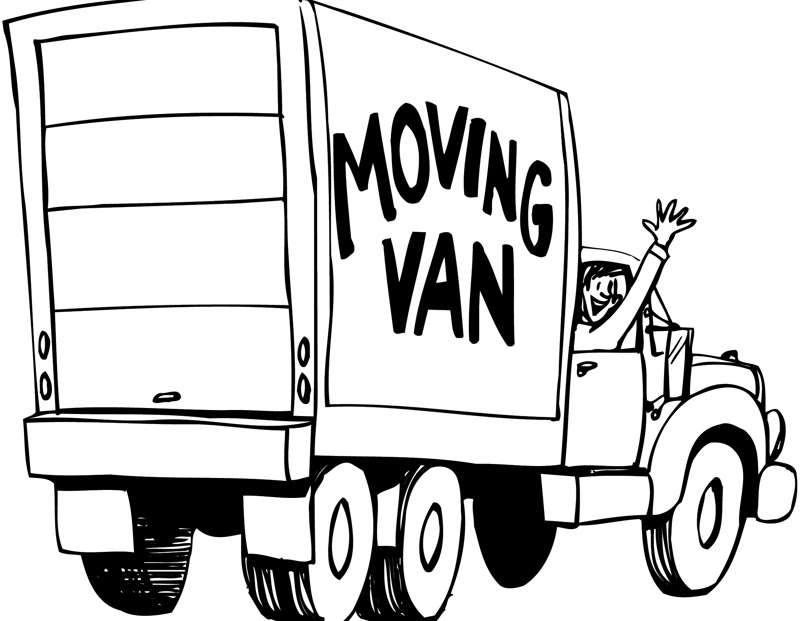 If you have already moved, are moving, or will possibly be moving before the start of the 2021/2022 school year, please let us know by filling out the google form linked below.
With all of our grades at or near capacity, such information in advance is vital to our planning process.
If this applies to you, please fill out this MOVING FORM today!
**5th grade students moving onto middle school in PUSD DO NOT need to fill out the form.
If you are moving and you have district materials (chromebook, library books, etc.), please contact the DonLon office at 925-426-4220 to arrange a return.
HEALTH OFFICE NEWS
Kindergarten Parents/Guardians:
The Oral Health Exam requirement is due by the last day of school, May 28th. Please drop off the completed oral health form, signed by your dentist, in the brown mailbox in front of the Donlon office, or you can email a copy to: jtompkins@pleasantonusd.net
Thank you!
Jamie Tompkins, Donlon Health Services Assistant
announcing the new pta executive board
The Donlon PTA is pleased to announce that at our PTA General Meeting on Tuesday, March 30th, the Donlon PTA membership elected our PTA Executive Board for the 2021-2022 school year.
Here are the 2021-2022 Donlon PTA Executive Board Members:
President: Cynthia Sandhu

Executive Vice President: Domenica Ginocchio

Secretary: Lana Lewis

Treasurer: Shareka Pentony

Financial Secretary: John Greene

Auditor: Victoria Haney

VP of Communications: Gen Lengefeld

VP of Membership & Volunteers: Neha Gohil

VP of Activities & Community Service: Sun Young Lee

VP of Fundraising: Michelle Lam

Historian: OPEN

Parliamentarian: Paul Lance
Their leadership term begins July 1, 2021. Donlon PTA would like to thank our current PTA Board for their dedication, time and countless contributions this school year.
We look forward to working with all our families next year! Consider joining the PTA and volunteering your time to help us run a great organization.
PLEASANTON PTA COMMUNITY HUB