A LOOK AHEAD
05/23 - 05/29

Restaurant Fundraising Week at iniBurger!

05/30

- Memorial Day (No School)

05/31

- 5th Grade Celebration, 3:00 - 5:00 pm

06/01

- Field Day
06/01 - Farewell Party, 2:00 - 3:00 PM, Donlon MPR

06/02

- Kindergarten Early Release Schedule, 12:05 pm (Park Day)
06/02 - 5th Grade Aquatic Day

06/03

- Last Day of School (Minimum Day)

PTA General Meeting
TBD
OR
Text DonlonPTA to 22828

Earn money for our school while shopping at Amazon. It's easy and benefits Donlon Elementary!
Click here to start shopping!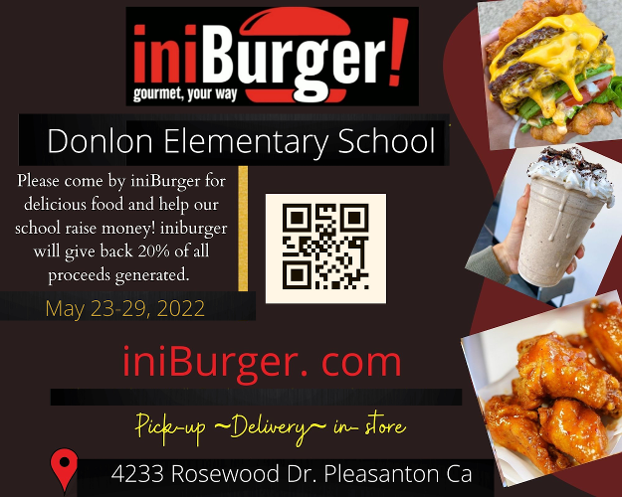 Restaurant Fundraising Week at iniBurger! Ends Sunday, May 29th, 2022
Support Donlon PTA and enjoy iniBurger!'s delicious food ends Sunday, May 29th, 2022 at our Dine-In, Delivery, and Online Order Fundraising Event. Mention the flyer when you order or type "Donlon PTA Fundraiser" in the Speciai Instructions section for online orders, and 20% of your order will be donated directly to the Donlon PTA.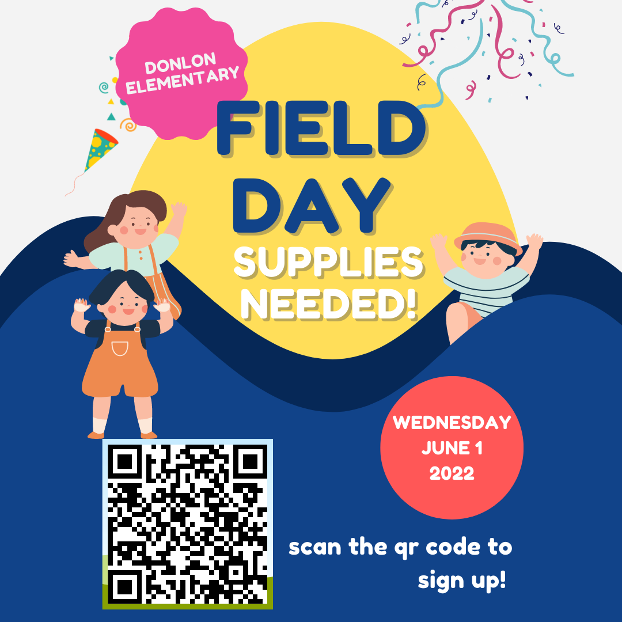 We still need supplies for our Field Day event on Wednesday, June 1st. Click on the Sign Up Genius link below to sign up:
https://www.signupgenius.com/go/904044daea829a4f58-donlon
Major THANKS to our parent volunteers who signed up for the event and to our Field Day Coordinator, Colleen Hake, for making this a reality for our students!!!
Supplies Needed:
7 - Jumbo Beach Balls

Thin Fabric Pool Tunnel

6 - Empty Milk Crate Boxes

2 Rolls of Neon / Colorful "Caution" like Tape

9 - Big Green *Kids at Play" Standing Sign

1 - Portable Soccer Goal

4- Shade Tarps

15 - Largest Size Sponges for Water Relays

Colorful Rope to Divide the Fields

8 - Foam Balls (like Dodge Ball size)
Farewell Celebration on Wednesday, June 1st, 2:00 - 3:00 PM
The PTA is hosting a Farewell Celebration for our teachers and staff who are moving on from Donlon. The festivities will begin at 2:00 pm in the MPR. Volunteers are needed to set up, serve, and clean-up.
https://www.signupgenius.com/go/70a0d49a9af2ba3fb6-farewell
Please forward all questions to Lana Lewis: secretary.donlonpta@gmail.com
Open 2022 - 2023 Committee Chair Positions
We have a number of PTA Committee Chairs open. The chair position work with the board members to plan and work events or programs. Time commitment varies and some programs can be done from home and some require the ability to be in school.
Current Committee Chairs Open for 2022/23:
4th Grade Fundraising Team

5th Grade Celebration Team

Abilities Awareness

Box Tops

Friday Ice Cream Sales
Garden Club
PPIE Ambassador
Read Across America Day

Science Fair

Walk & Roll to School Day

Walk Through Registration
To volunteer or get more information, contact Cynthia Sandhu at president.donlonpta@gmail.com
Announcing the NEW Donlon PTA Executive Board
The Donlon PTA is excited and proud to present the following officers for the 2022-2023 School Year:
President - Cynthia Sandhu
Executive VP - OPEN
VP of Membership - Anu Panchikarla
VP of Activities & Community Service - Domenica Ginocchio
VP of Fundraising - OPEN
VP of Communication - John Greene
Treasurer - Shareka Pentony
Financial Secretary - OPEN
Secretary - Lana Lewis
Auditor - Jaclyn Grant
Historia - Megha Joshi
Parliamentarian - Jessie Fei
There are still open board positions available. Join our team! Contact PTA President Cynthia Sandhu at president.donlonpta@gmail.com