A LOOK AHEAD
01/24 - 01/28 - Kindness Week

01/25 & 01/26 - TK/K Virtual Parent Information Night at 6:30 p.m.
02/01 - Virtual Spanish Dual Language Immersion Info Night at 6:00 p.m.
02/01 - Virtual PTA General Association Meeting at 7:00 p.m.
02/04 - Pleasanton PTA Council Special Needs Committee's Virtual Parent Mixer at 6:00 p.m.

Virtual PTA General Meeting
Tuesday, February 1, 2022 at 7PM
OR
Text DonlonPTA to 22828

Earn money for our school while shopping at Amazon. It's easy and benefits Donlon Elementary!
Click here to start shopping!
This Week is Kindness Week at Donlon!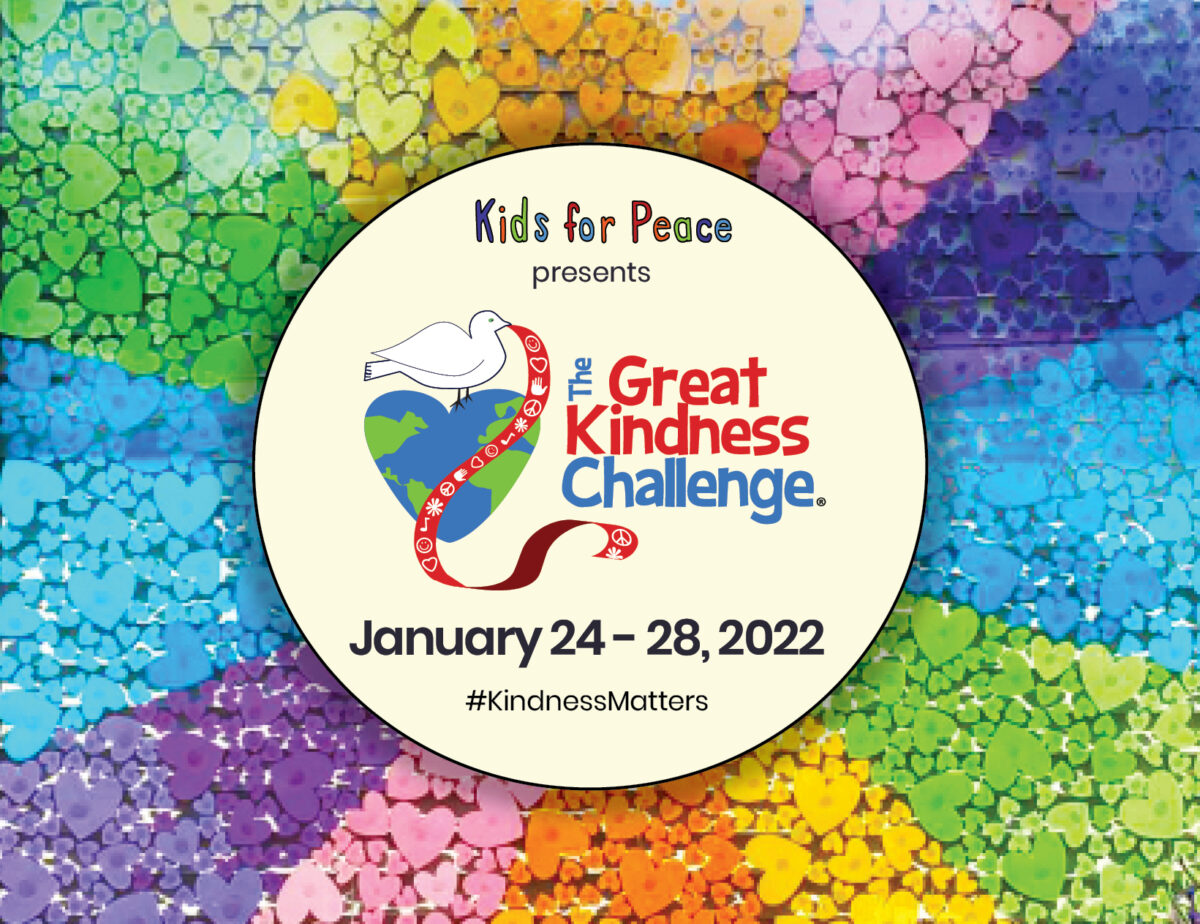 Donlon Cubs will get to participate in different kindness activities at lunchtime, recess and possibly in the classroom too. They will also be coming home with a Great Kindness Challenge checklist, so ask them to share it with you! If you are a cleared volunteer and able to help, please reach out to Cynthia Sandhu president.donlonpta@gmail.com to assist in the lunchtime fun.
Here are some of the themes for the week:
Monday - Be KIND to yourself
Tuesday - Be KIND to family members
Wednesday - Be KIND to classmates
Thursday - Be KIND to friends
Friday - Be KIND to neighbors
Virtual PTA General Meeting on Tuesday, February 1st at 7:00 p.m.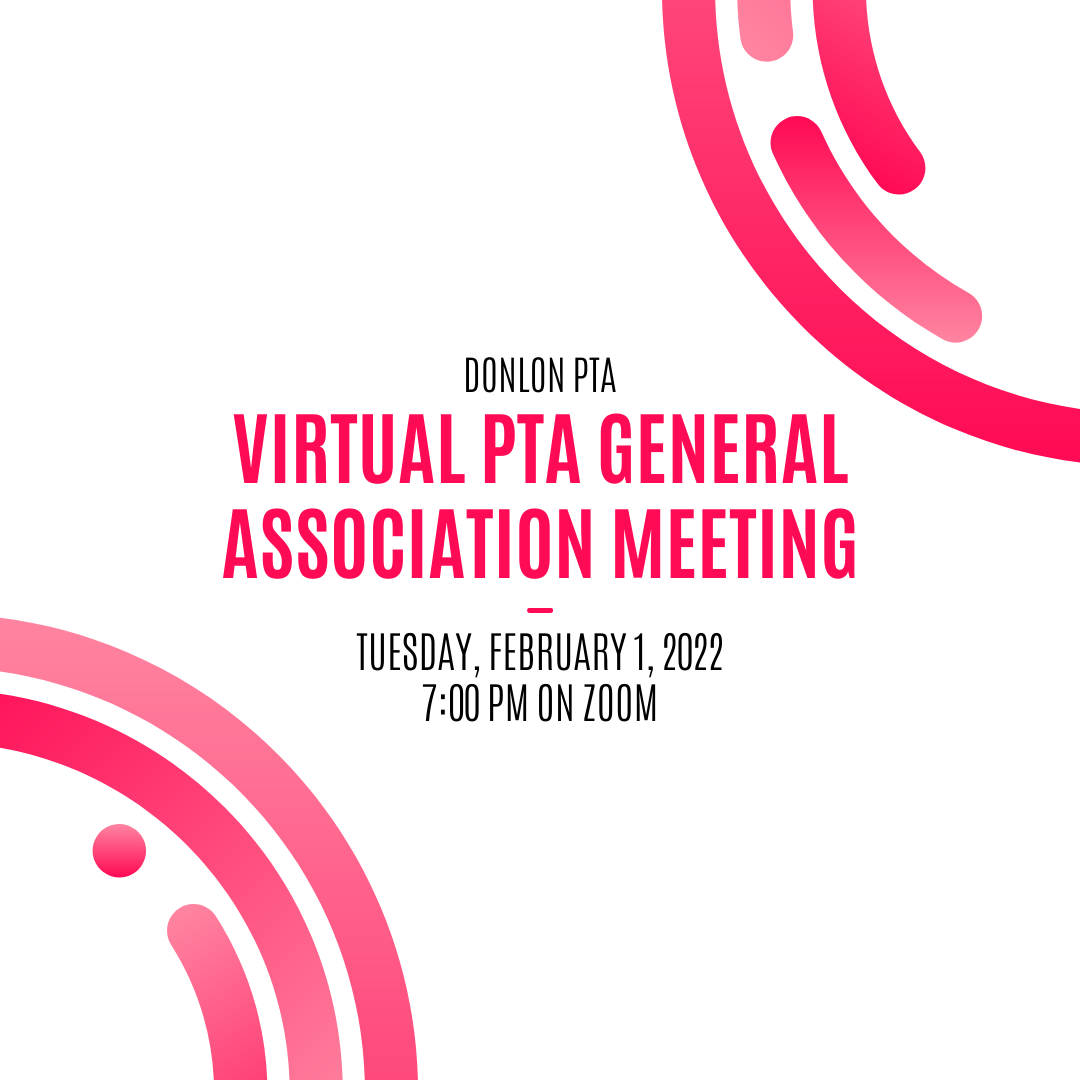 Our next Virtual PTA General Meeting will be held on Tuesday, February 1st at 7:00 p.m. on Zoom. We have several important items to discuss including upcoming PTA events and school related updates from our Principal Janet Gates.
All are welcomed to attend. Please see the attached meeting agenda.
Join the 2022-2023 Donlon PTA Executive Board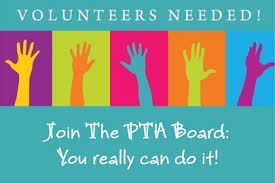 We are currently looking to fill our PTA board for next school year. We have many PTA board members leaving their roles due to their kids leaving Donlon and we'd love to get these positions filled. Being a part of the PTA board is a great way to give back to our Donlon community and help shape how our organization helps support our school.
The board is filled with parents just like you. We cannot continue to support our school without your help. The commitment level of each role can vary, however with a full team we can help each other and be sure that as many voices as possible are heard and give their input. There is no better way to help your school, and in turn help your student, than to join the PTA board!
The Nominating Committee is recruiting for the following board positions below:
Auditor

Financial Secretary

Parliamentarian

VP of Fundraising

VP of Membership and Volunteers

VP of Activities and Community Services
Visit Donlon PTA Board Descriptions to view a brief description of all PTA Board Positions.
Please contact Executive VP Domenica Ginocchio at evp.donlonpta@gmail.com, VP of Membership and Volunteers Neha Gohil at vpmembership.donlonpta@gmail.com or Historian Anu Panchikarla at historian.donlonpta@gmail.com for more information about open board positions.
TK/K Eligibility and Parent Information Meetings for 2022-2023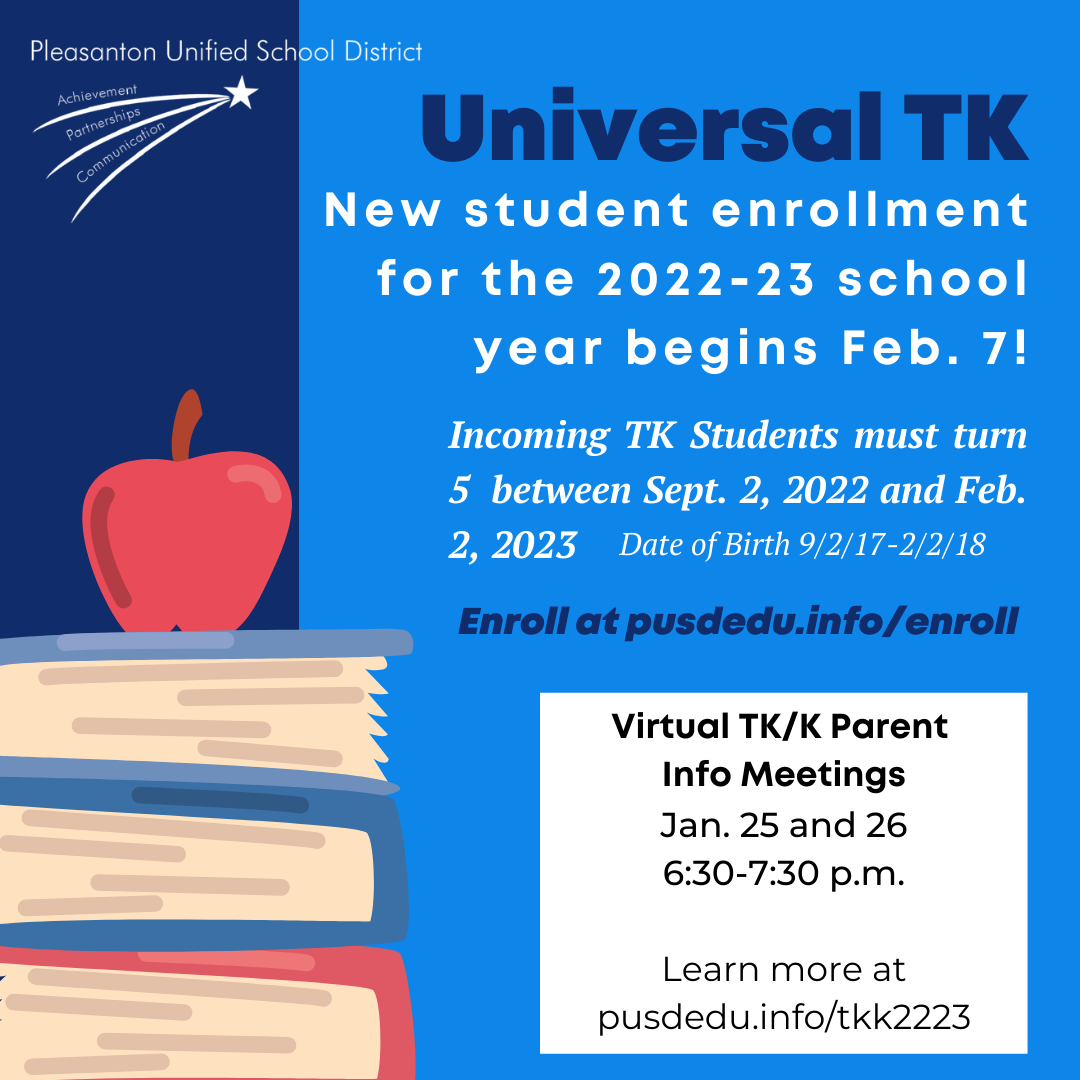 Parents who are planning to register their children for Kindergarten or Transitional Kindergarten (TK) in the Pleasanton Unified School District (for the 2022-23 school year) are invited to attend one of our virtual parent meetings:
Virtual Evening Presentations:
Visit PUSD TK & K Eligibility and Parent Information Meetings for 2022-2023 page for more info.
Virtual Spanish Dual Language Immersion Informational Nights
Valley View Elementary School's Dual Language Immersion Program will host virtual information nights for parents of incoming Kindergarteners on Tuesday, February 1st and February 8th from 6:00 to 7:00 p.m. Learn more and join the Zoom meetings at pusdedu.info/tkk2223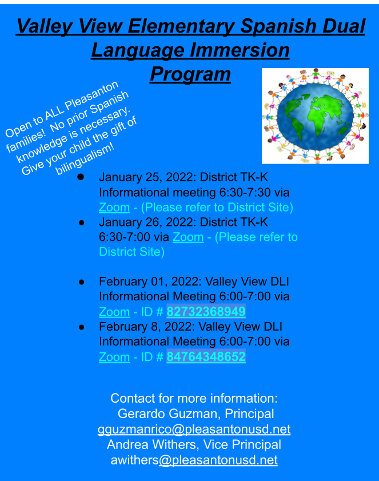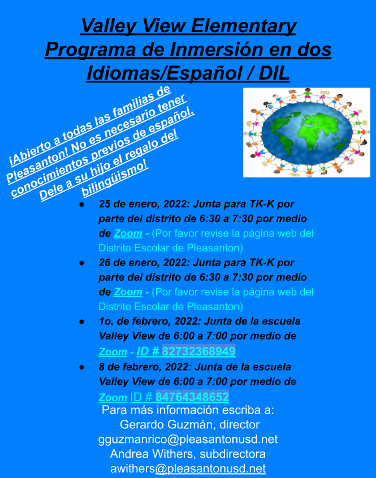 Volunteers on Campus
We are excited that we can begin having small numbers of parents/guardians on campus to volunteer in classrooms. Due to safety restrictions regarding COVID, procedures are different than in past years.
If your child's teacher has asked for volunteers, please communicate with them to see if you are needed. Then you must be cleared to volunteer as follows:
Cleared through Pleasanton Police Department (this takes about 2 weeks for clearance) at this link:

Police Clearance
Submit proof of complete vaccination (all doses), and upload photo of vaccination card on the district link:

Vaccination Clearance (District form)
Complete the daily health screener prior to coming on campus EACH day you come to volunteer, and show clearance (green check email) to office staff.

Daily Health Screener Link

Sign in using Raptor (machine in office).

Enjoy your volunteer time!
While on campus, we ask everyone to wear masks at all times (please, no eating or drinking in rooms). Also, please respect the learning and work that is happening at Donlon, focusing on the classroom needs. We love our community and know how much fun it is to see other families on campus, however, we ask that socializing happen outside of campus; not in classrooms, hallways, or in our office. Thank you for keeping our staff and students safe and healthy!
Your California State PTA Winter 2022 Member Perks are Here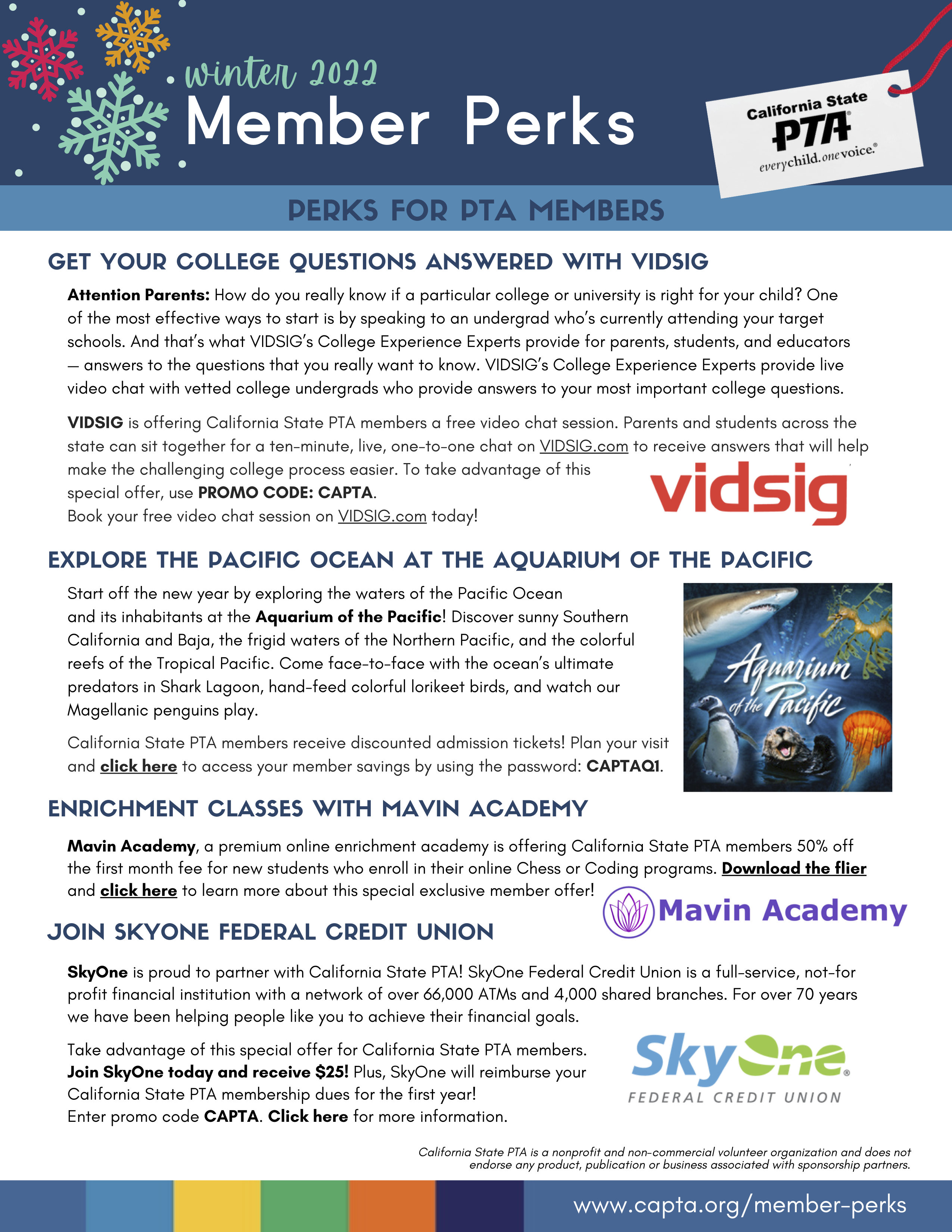 As a member of California State PTA, you advocate for children, promote parent and family involvement in schools, and improve the lives of all children and families. Here are a few extra perks of membership available exclusively to PTA members like you!
Registration is Now Open for our 5K Walk/Run, 10K or 15K on Sunday, April 24!
PPIE is so excited to host the Run For Education back at the Alameda County Fairgrounds this year. We will have an EXPO at the finish line with music and lots of friends you haven't seen in a long time. If you have a local business and would like to join us at the EXPO as a sponsor, reach out to us and see which sponsorship opportunity meets your needs. We have options ranging from $250 (kids expo) to $1,000 (includes business name on our official t-shirt), and more!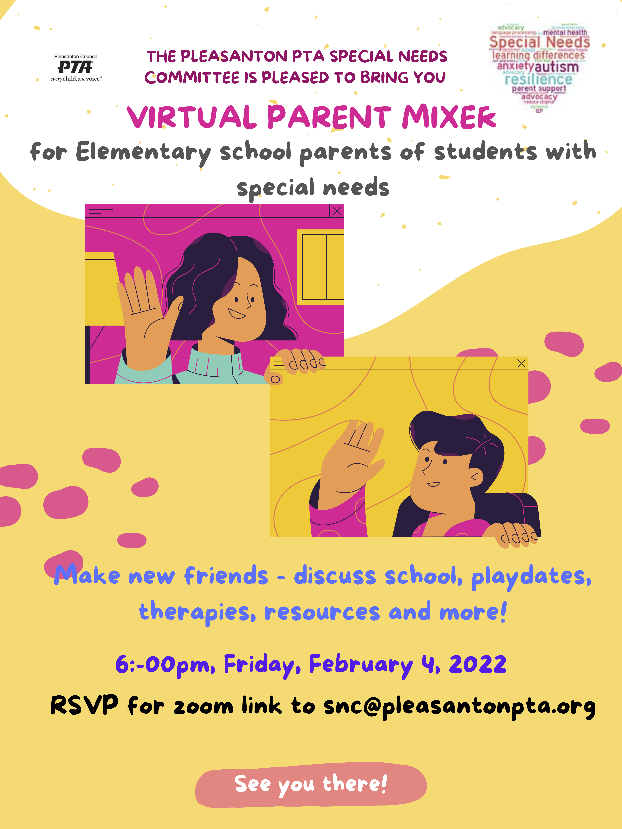 Donlon Spirit Wear T-Shirts Are Still Available for Purchase!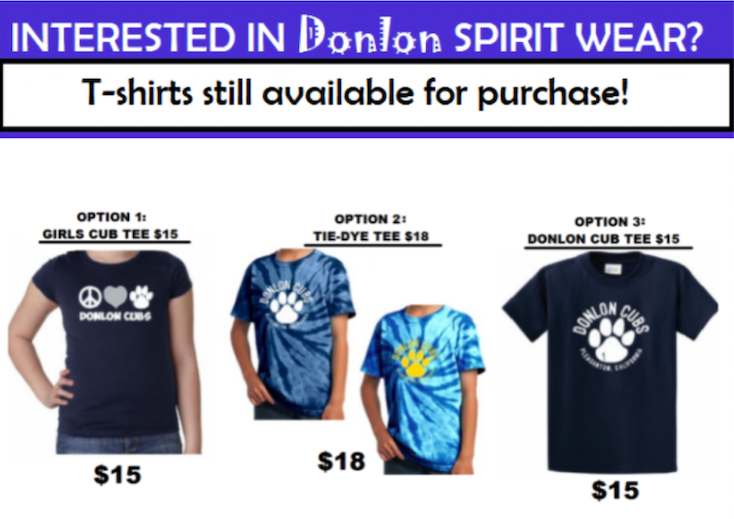 It's not too late to purchase a T-SHIRT for your Donlon Cub! Please contact Spirit Wear Coordinator - Shareka Pentony: spiritwear.donlonpta@gmail.com
Thank you to all families who purchased spirit wear to support our school!