A Look Ahead...
May
22: PTA Meeting 7pm
23: Community Engagement Meeting 10-11am @ District Office
23: Restaurant Night - Chicago Deli noon-8pm
25: Flag Salute - Vacation Day
28: No School - Memorial Day
29: 5th Grade Celebration
30: Field Day
30: Retirement Celebration 3:15-4:15pm
Or
Text DonlonPTA
to 22828
Phone Numbers
Donlon Administrative Office
Phone: (925) 426-4220
Fax: (925) 484-5423
24 Hour Attendance Hotline

Student Directory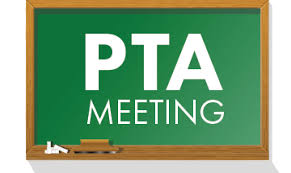 Next PTAGeneral Meeting
Tuesday, May 22
7:00pm
Restaurant Night - Chicago Deli

Chicago Deli (Near Lucky Supermarket)
Wednesday, May 23rd
12pm-8pm
Dine-in or Take-out

Just mention Donlon Elementary and they will donate 20%
Thank You!
We had a great turn out for the auction last night and I am super excited to announce that we made a little over $4,000.00 this year!!! A BIG Thank You to all the donors, teachers and room parents who helped make the donations happen. There were some amazing baskets this year. I got outbid on everything! The money raised from this years auction will be going to make some technology upgrades in the next coming year.
Thank you again to everyone who participated in the auction and purchased baskets.
-VP Fundraising
Last PTA Meeting of the Year
Please join us Tuesday May 22nd at 7 PM in the library for the last PTA meeting of the year! We will be recognizing all of our volunteers, reviewing next year's PTA calendar, approving funds for the beginning of the year, reviewing the PTA survey results, and providing an update on the district meetings regarding overcrowding in North Pleasanton. The full agenda can be found here.
If you volunteered at ANY of our PTA sponsored events please come so we can recognize you!
Spring Donlon Book Fair Results
Our spring book fair was a wonderful success with a total of $11,616 in sales resulting in $7550 in scholastic dollars that will be used to purchase new books for our Donlon Library. We would like to thank our Donlon community for their on going support of this fun and important event to fund books for our library and teacher classrooms. More than 50% of your purchases come back directly to our school. We would also like to thank our many volunteers who helped make this event possible. We truly could not have a book fair without you! Please look for our next Scholastic Book Fair coming this fall to Donlon.
Community Engagement Meetings
Families and community members are invited to attend one of two meetings to learn about current and projected student enrollment in Pleasanton and provide input on options to address enrollment in Northern Pleasanton; including use of a K-8 school configuration, new elementary school, increasing enrollment capacity within existing school configurations, and school boundary adjustments.
The meetings will be held on Wednesday, May 16, 6 - 7 p.m., and Wednesday, May 23, 10 - 11 a.m., in the District Office Board Room, 4665 Bernal Avenue in Pleasanton.
These meetings follow a series of public workshops held by the PUSD Board of Trustees around District facilities, funding available through the District's Measure I1 bond approved by voters in November 2016, as well as current and projected student enrollment.
The District's annual demographers report, presented during the March 13 regular board meeting, notes an increase in student enrollment in North Pleasanton. Since receiving this report, the Board of Trustees have held a number of collaborative discussions during school board meetings and joint city meetings.
The Board of Trustees and District are committed to having an open dialogue with the community around facilities and the future of our schools. These meetings are open to all community members.
We look forward to seeing you on either May 16th or 23rd!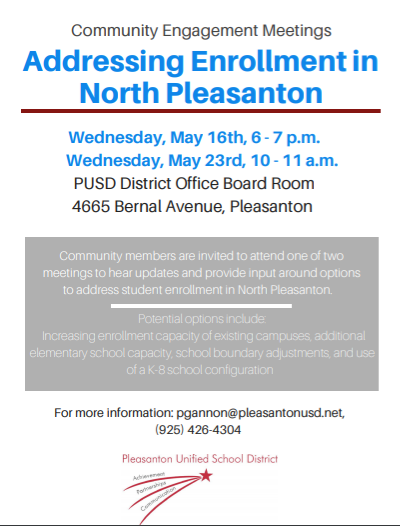 Take the PUSD Stakeholder Survey Here!
In PUSD/name of school, we're committed to partnering with you to best serve our students. That means listening to you about the education and services we provide.
You can share feedback on safety and behavior, student support, academic preparation, school leadership, and family involvement.
Parents/guardians, go to http://www.k12insight.com/PleasantonUSDparents, or check your email for an invitation and link. Students in grades 6-12 will also receive an invitation to take the survey via email.
The survey is offered in English, Spanish and Chinese. You have through Wednesday, May 23 to participate. All responses are strictly confidential!
SAVE THE DATE!
SPRING MUSIC SHOWS
4th Grade:
Tuesday 5/22 9:15-10:00
5th Grade:
Friday 5/25 9:15-10:00
Leslie Lawrence
PUSD Music Educator
Donlon Elementary School
Website: tinyurl.com/DonlonMusic
Field Day!
Donlon Field Day on Wednesday, May 30th is a day of outdoor FUN & GAMES for all Donlon cubs!
Students rotate through different stations, enjoying fun-filled games. This is a GREAT opportunity to get involved, enjoy the sunshine, and celebrate the last week of school!!!
We need LOTS of volunteers to make this a fun experience for the kids. Please sign up to help during the time slots. Thank you for making this a great day for our Donlon Cubs!
Grades will be divided into the following times:
- Grades 1st, 2nd, 3rd (excl. Posson/Heid): 9:30-11:00am
- Grades 4th, 5th, K (plus Posson/Heid) : 11:10-12:40pm
Special Needs Committee Meet & Great
Would you like to be part of a committee that...
Communicates directly with district administrators at monthly meetings?

Allows you to have your concerns heard and give feedback about district policies?

Provides insight into the resources and supports available for students and parents in the district?

Plans speaker events and activities for topics relevant to your child's needs?

Includes other parents who have years of experience and wisdom with both IEP and 504 Plans?

Works to build understanding of different abilities within our school community?
If you answered YES to any of the above questions, please join the Pleasanton PTA Council Special Needs Committee at one of their informational meetings! Drop-ins are welcome at either event!
Tuesday, May 22, 9:30 to 11 am, PUSD District Offices, Bldg 400 - Kottinger Room, 4665 Bernal Ave, Pleasanton, with special guests Superintendent David Haglund and Assistant Superintentend Ed Diolazo. Registration not required.

Wednesday, May 16, 6:30 to 8:30 pm, Inklings Common Room, 530 Main Street, Pleasanton. Refreshments will be served. Children are welcome, but childcare will not be provided. Please register at

https://tinyurl.com/May2018SNC.
Donlon Teachers' Retirement Celebration
Grading Papers Won't be Missed
But the Lives They Have Touched
Make a Very Long List!
Come be part of the celebration if you have been fortunate enough to have been taught by Daniel Horowitz, Martie Muldoon or Lori Skoglund.
Join the Donlon Community on Wednesday, May 30, 2018 3:15-4:15 as we thank them for the 66 combined years of service these amazing educators have provided to the Pleasanton Unified School District.
On June 1st, Daniel Horowitz will have completed his 25th year of teaching! Mr. Horowitz has a Masters in Curriculum and Instruction. He began his teaching career and spent his first 4 years in Richmond teaching 2nd, and 4th grades, as well as a 4-5 combo. In his 21 years teaching 3rd grade at Donlon he is best known for building a safe and supportive learning environment for his students year after year. He can also be credited for establishing the Lifeskills program schoolwide, which helped to create a strong sense of community throughout the Donlon population. His passion for teaching students will truly be missed.
Teaching music since 1999 when she came from Clovis Unified, Martie Muldoon has taught music at Mohr and Walnut Grove. In 2000 Martie Muldoon was instrumental in starting the strings program that is available to all 5th grade students in the district. She has taught strings at all 9 elementary schools including Donlon once a week since 2000. By sharing her love of music with hundreds of 5th graders across the district each year, she helped spark the love of music in them as well! Because of her program many of her students have gone on to play in the strings and jazz bands at the middle and high school levels, and beyond.
Lori Skoglund has taught in Pleasanton for 20 years! But before coming to Pleasanton in 1998, she taught 2nd grade at Niles Elementary, 6th grade at Warwick Elementary and 4th & 5th grades at Mission Valley in Fremont. Lori has taught 4th grade at Walnut Grove, 3rd grade at Alisal and 3rd grade at Donlon. Her enthusiasm for teaching and being the best teacher she possibly could be helped shape the lives of many of her students. Her bright smile, dedication to her career, and her love of the dramatic arts will be missed.
Welcome Hart Huskies!
5th Grade Parents!
Hart Middle School invites you to keep informed about all the happenings in your new school by subscribing to our fabulous Weekly Woof! Make sure you check our website often. Don't forget to sign up now by clicking on this link, or going to our website hartmiddleschool.org. We can't wait to see you around!
PPIE Donations for Donlon
Thanks to your support, PPIE will donate $644,000 to our schools for the 2018-2019 school year primarily for staff support and our annual grants. Every year, we complement PTA funding, which focuses on 'stuff' - such as school supplies, technology, activities and parent/teacher development - and ALL our combined funding improves the classroom experience for your student. At Donlon, we are proud to fund:
1 extra hour/day for a Librarian Assistant and an Onsite Technology Specialist

1 full time school-site Intervention Specialist to support students who need help or advancement in math and English (your school will determine how the person is best used)

Round trip bus transportation for Outdoor Ed travel

Support for a Crisis Counselor program that the school district is developing
To sustain this support, PLEASE donate $1 a day or more for your student on Future Fund at August Registration. If everyone donates something, we ALL benefit. AND tell us what you want PPIE to fund at your school - our annual survey will be live August 1 on our brand new website at www.ppie.org Thank you and have a great summer!
K-8 Program Discussion at Special District Meeting Tuesday April 10th
The Pleasanton School District is seriously considering K-8 schools as an option to deal with the overcrowding in North Pleasanton schools. Discussions have mentioned Donlon as a potential site. The topic was discussed at the last School Board meeting (see Pleasanton Patch article for summary).
Update:
The Board directed the District to engage the community around potential K-8 options to address student enrollment capacity in North Pleasanton. No formal action was taken. Sites discussed for possible K-8 were Donlon and/or Hart.

If you want to watch the April 10th Board workshop online, you can at this link. If you only have 30 minutes to watch, then watch the last 30 minutes, etc.
http://www.tri-valleytv.org/school-pleasanton.html
Donlon PTA Board Elections

Elections were held on April 17


Presentation of Slate for 2018-2019 Executive Board:
President~Allison Ferro
Executive Vice President~Shareka Pentony
Secretary~Emily Rampton
Treasurer~Becka Schnell
Auditor~Tanya Stover
Historian~Andrea Wilson
VP Chair of Membership and Volunteers~Alice Cruce
VP Chair of Activities and Community Service~Michelle Lam
VP Chair of Fundraising~Domenica Ginocchio
VP Chair of Communications~Keely Schuh
Also,
Pleasanton PTA Council Openings
The Pleasanton PTA Council Nominating Committee invites all interested parents and community members to consider serving on the 2018-2019 Pleasanton PTA Council Board. Unlike a school-based PTA/PTSA which works closely with one school, we support 13 units all across Pleasanton and collaborate with district-level leadership in addition to the individual school sites.
Interested or know of someone who might be a good candidate? Click here for more information or go to http://bit.ly/2ozRn1q We look forward to hearing from you!
Fun Run Announcement!

Click here to see the total raised for our school by the Fun Run, the list of top classes for each grade level, the top fundraisers for each grade level and the top 3 fundraisers for the whole school!


Way to go Donlon Cubs!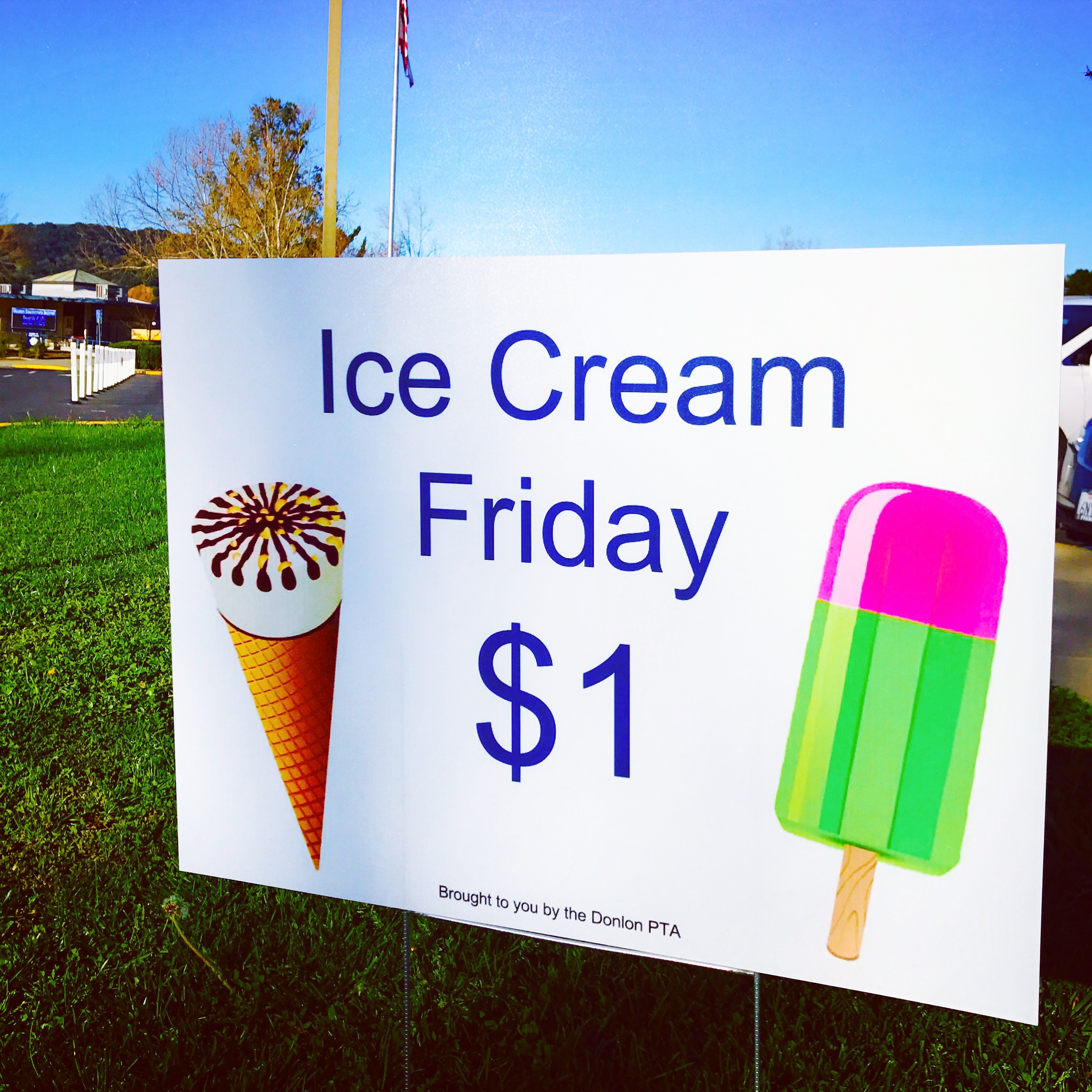 Friday Ice Cream Sales are almost over!
5/18 Minimum Day = no ice cream sales
5/25 Last Friday Ice Cream Sales!
6/1 Last Day of School!
2017/2018 School Drop Off/Pick up Procedures
Please review the procedures for this school year to make drop off and pick up run as smoothly and safely as possible.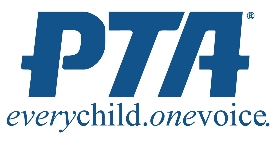 Want to become
a member?
Want to become a member? By joining, you'll be making a difference in our school community. Members are the strength of our association! Active members make positive decisions that affect the welfare and education of youth locally and nationally. Membership benefits include voting power at PTA meetings, access to information on issues that affect the education and well-being of our students, and discounts at local and other businesses.
Individual memberships are $10, family memberships are $16. They are good for the 2017-2018 school year. Membership envelopes can be found in the main office to the right of the health office. Please return your payment in the membership envelope to the main office.