A Look Ahead...
February
26: Read Across America Week!
March
2: Minimum Day
16: Flag Salute - Era Day!
23: International Fair
30: No School
Or
Text DonlonPTA
to 22828
Phone Numbers
Donlon Administrative Office
Phone: (925) 426-4220
Fax: (925) 484-5423
24 Hour Attendance Hotline

Student Directory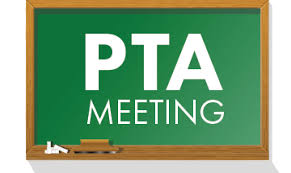 Next PTAGeneral Meeting
Tuesday, April 10
7:00pm
Read Across America Week! Feb 26 - March 2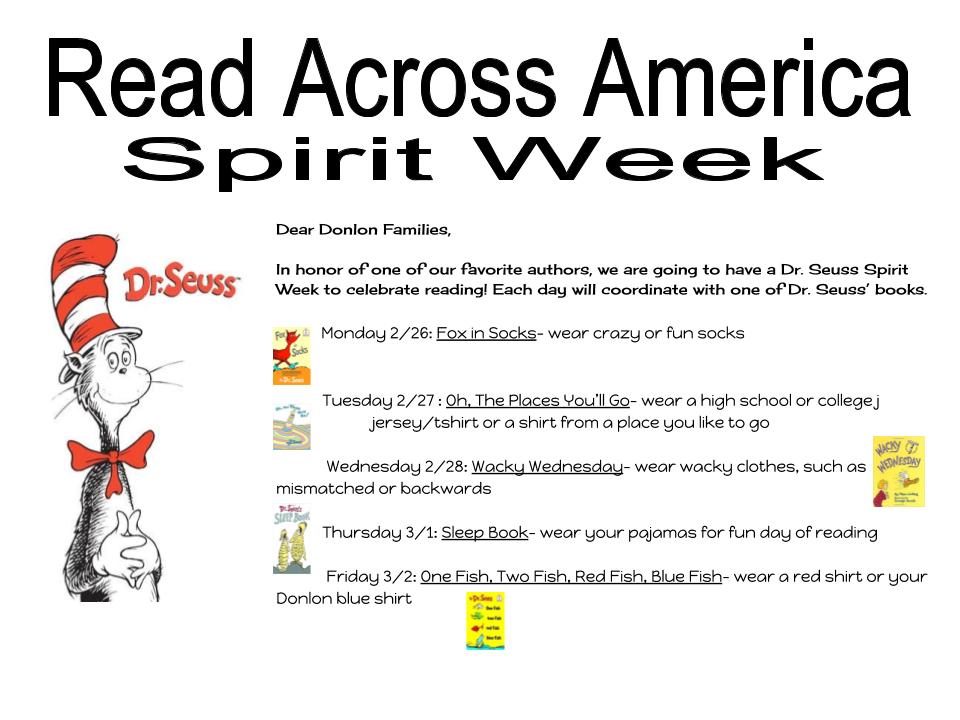 Pennies For Pets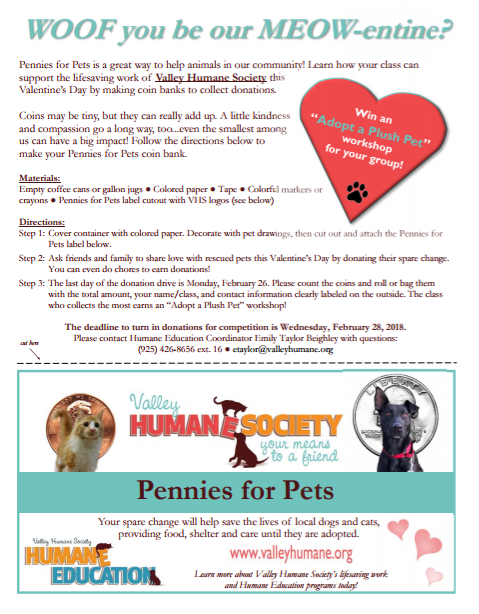 Donlon PTA Board Elections

Next General PTA Meeting is April 10 @ 7pm


Presentation of Slate for 2018-2019 Executive Board:
President~Allison Ferro
Executive Vice President~Shareka Pentony
Secretary~Emily Rampton
Treasurer~Becka Schnell
Auditor~Tanya Stover
Historian~Andrea Wilson
VP Chair of Membership and Volunteers~Alice Cruce
VP Chair of Activities and Community Service~Michelle Lam
VP Chair of Fundraising~Domenica Ginocchio
VP Chair of Communications~Keely Schuh
Also,
Pleasanton PTA Council Openings
The Pleasanton PTA Council Nominating Committee invites all interested parents and community members to consider serving on the 2018-2019 Pleasanton PTA Council Board. Unlike a school-based PTA/PTSA which works closely with one school, we support 13 units all across Pleasanton and collaborate with district-level leadership in addition to the individual school sites.
Interested or know of someone who might be a good candidate? Click here for more information or go to http://bit.ly/2ozRn1q We look forward to hearing from you!
PPIE Run for Education
The Pleasanton Run for Education Principal's Challenge is up and running. The current leaders are Lydiksen, Hart and Amador/Foothill for a tie. The winning school gets to proudly showcase a plaque and earns bragging rites for the following year. Which school will win?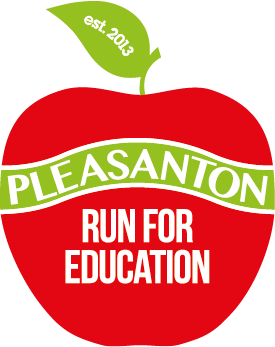 When you register for the PPIE Run for Education, be sure to identify your school site with your registration. Grab a friend, neighbor, colleague or family members and join us for the 5k, 10k, 15k, or Kid's Challenge on April 15th.
Early Bird registration fees are in effect through March 12th.
Donlon International Fair

Animals & Cultures of the World
Donlon MPR and Library
Friday, March 23, 2018 at 5-8pm
Please join the Donlon International Fair and help us make this a great experience for our children! We have many volunteer opportunities to choose from!
Volunteer here
http://www.signupgenius.com/go/60b094eada92ba5f94-international
Coordinators of countries : https://goo.gl/WV9Vqz
Coordinators of performance/fashion-show/table display: https://goo.gl/dwrekc
And an important message on behalf of our Donlon music teacher
Mrs. Lawrence needs students, parents and teachers who are willing to:
Perform "The Star Spangled Banner" using instruments and song.

Learn a traditional Scottish dance to perform thanks to the expertise of her husband who is from Scotland! Talk about fun!
If you are interested in either, please email Mrs. Lawrence directly:
Spread the news!
Fun Run Announcement!

Click here to see the total raised for our school by the Fun Run, the list of top classes for each grade level, the top fundraisers for each grade level and the top 3 fundraisers for the whole school!


Way to go Donlon Cubs!
Order Your 2017/2018 Donlon Yearbook!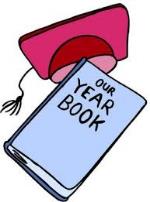 Order online:
http://yearbookordercenter.com/
School order number: 19006
Purchase 5th grade Ads!
Yearbook Cover Contest
Upload pictures for the yearbook:
http://www.hjeshare.com/eShare/index.html
School code: donloncubs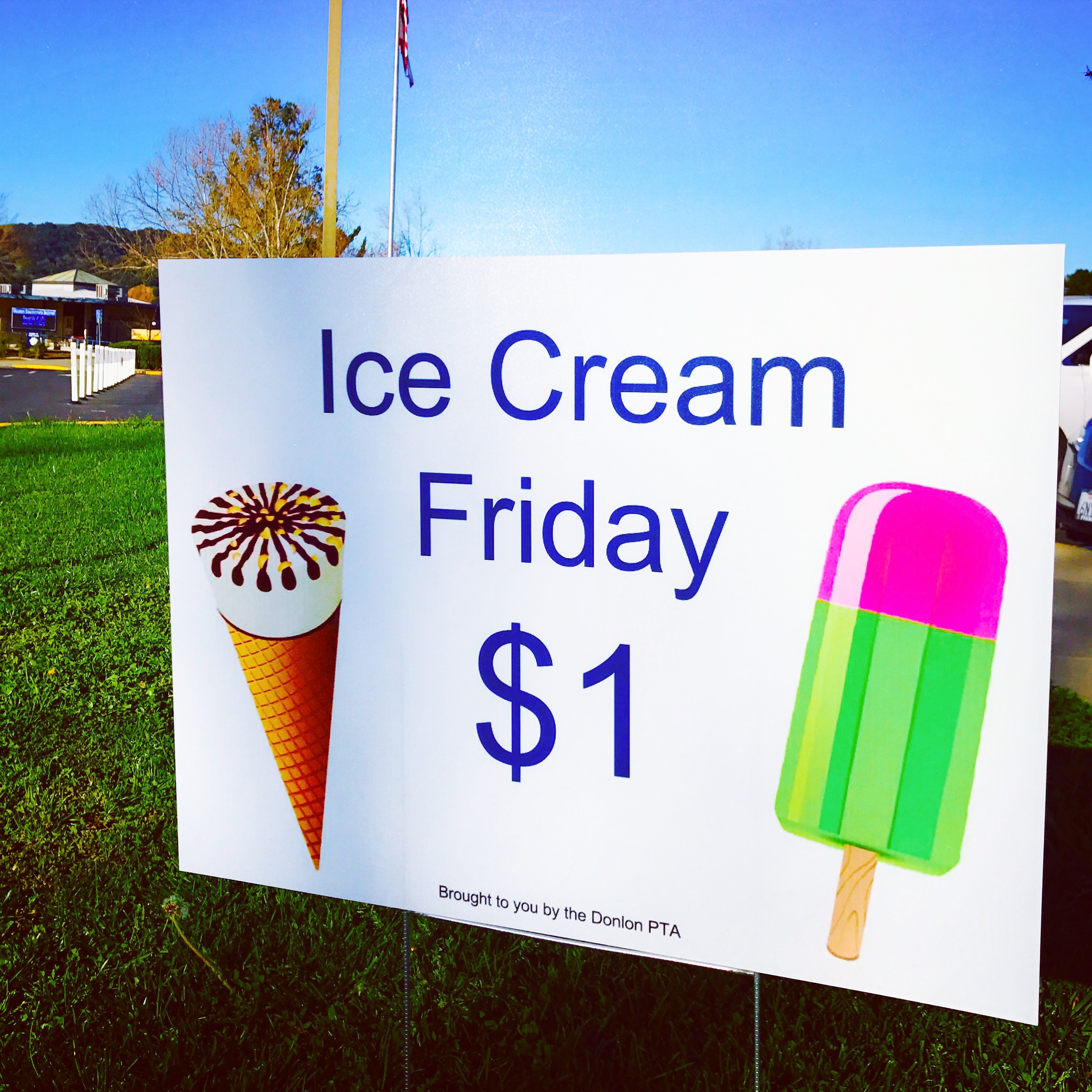 Friday Ice Cream Sales are currently in hibernation for the winter. We will let you know when our freezer is ready to come back out. Thank you for supporting the Donlon PTA Friday Ice Cream Sales.
Hopefully returning in March!
2017/2018 School Drop Off/Pick up Procedures
Please review the procedures for this school year to make drop off and pick up run as smoothly and safely as possible.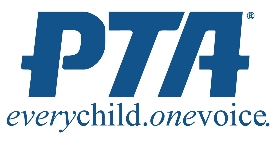 Want to become
a member?
Want to become a member? By joining, you'll be making a difference in our school community. Members are the strength of our association! Active members make positive decisions that affect the welfare and education of youth locally and nationally. Membership benefits include voting power at PTA meetings, access to information on issues that affect the education and well-being of our students, and discounts at local and other businesses.
Individual memberships are $10, family memberships are $16. They are good for the 2017-2018 school year. Membership envelopes can be found in the main office to the right of the health office. Please return your payment in the membership envelope to the main office.