A LOOK AHEAD:
02/22 - Read-a-Thon PledgeStar Account Registration Begins
02/22 - 02/23 - School Reopening Parent Webinars at 6:30pm
02/26 - Last Day for 5th Grade Yearbook Baby Photos Submissions
02/26 - 02/28 Book Fair at Towne Center Books, 555 Main St. Pleasanton
02/28 - Last Day to Purchase 5th Grade Recognition Ads
03/01 - 03/08 Read-a-Thon & Read Across America Week
03/04 - Return to School for Hybrid Students (K - Grade 2)
03/08 - Return to School for Hybrid Students (Grades 3 - 5)

Next PTA General Meeting
Tuesday, March 30, 2021
Or
Text DonlonPTA
to 22828
Phone Numbers
Donlon Administrative Office
Phone: (925) 426-4220
Fax: (925) 484-5423
24 Hour Attendance Hotline


Earn money for our school while shopping at Amazon. It's easy and benefits Donlon Elementary!
Click here to start shopping!
School Reopening for Hybrid Students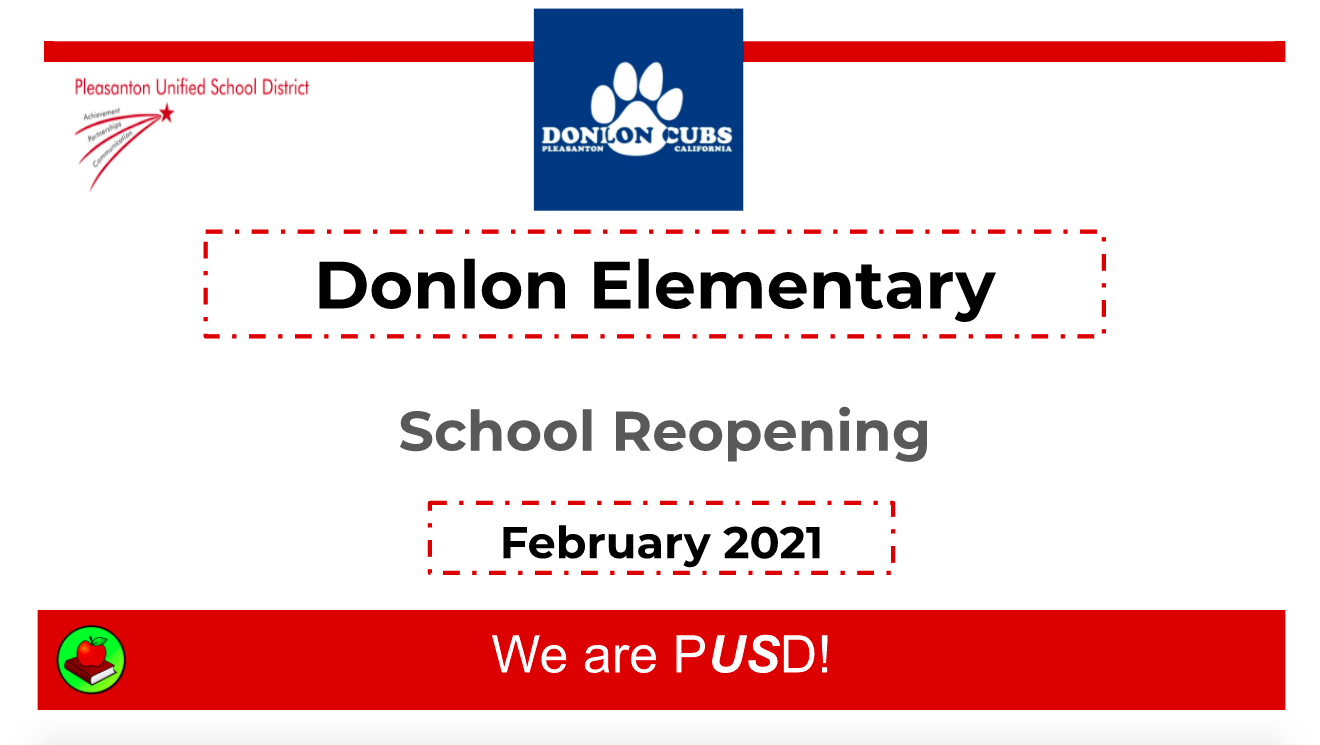 PUSD Board of Trustees have unanimously voted to have Kindergarten, 1st grade, and 2nd grade hybrid students return to campus starting March 4 followed by 3rd, 4th and 5th grade hybrid students on March 8.
Please watch the above video explaining the school reopening procedures for hybrid students.
Additionally, Mrs. Gates and Mrs. Stothers will host two webinars to give families an opportunity to discuss questions related to reopening schools. Both events begin at 6:30pm.
All families are welcome to attend the webinars whether you have chosen remote or hybrid learning.
Visit Mrs. Gates's updated Donlon Digest for more information.
School Reopening Plans Frequently Asked Questions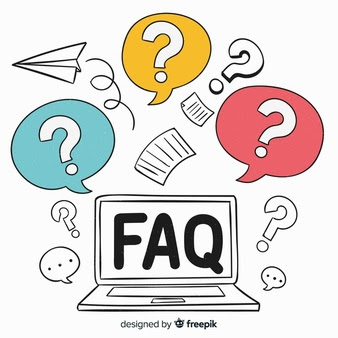 We know you may have a lot of questions regarding specific procedures for when school reopens. As the PTA board and your parent liaison, we are working actively with Donlon administrators to create a FAQ. Please review the attached link below and let us know if you have other questions! As we get closer to the opening date, more details will be provided from Donlon school administrators.
FAQ - Parent Questions Regarding Donlon School Reopening Plans (Updated on 2/19/21)
Bell Schedule: Hybrid & At-Home Programs 2021
Important Update on Donlon's Bell Schedule when Hybrid students return to campus.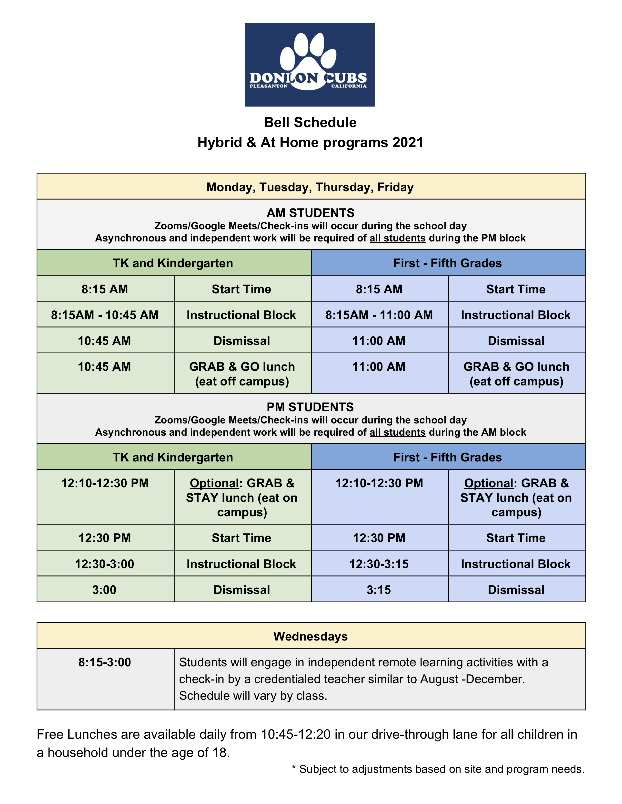 BOOK FAIR 2021: FEBRUARY 26TH - 28TH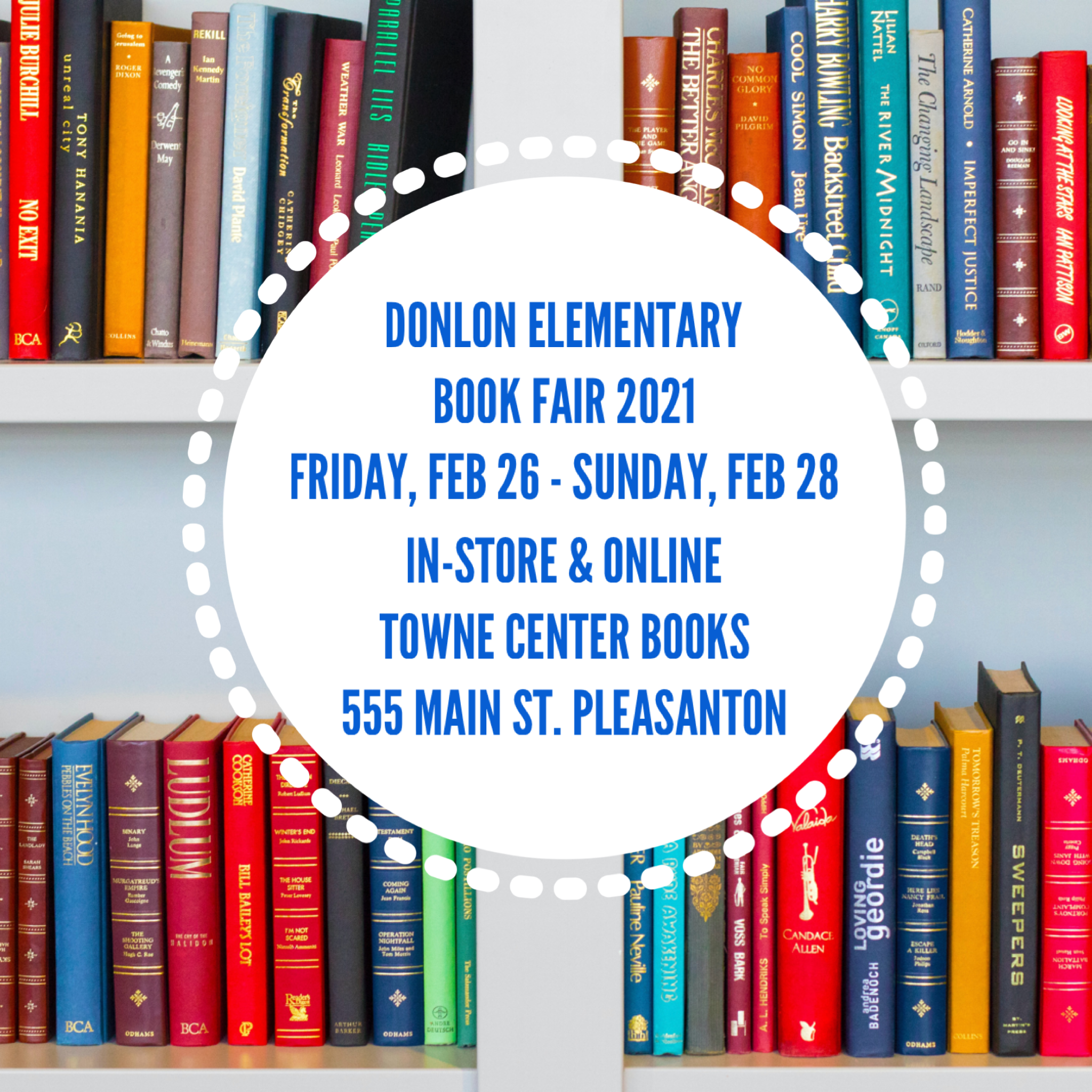 In getting ready for our first annual Read-a-Thon event which starts March 1, Donlon PTA will be hosting Book Fair 2021 at Towne Center Books in downtown Pleasanton on Friday, February 26 until Sunday, February 28.
Shop TWO ways:
Shop ONLINE! Visit Towne Center Books Website. Please write DONLON ELEMENTARY in the order comments.
Shop IN-STORE! Visit Towne Center Books store at 555 Main St. in downtown Pleasanton. Be sure to mention DONLON ELEMENTARY when checking out in-store.
How do I find my teacher's WISH LIST?
On the right-hand side of the book fair website is a FIND A WISH LIST section. Enter the teacher's name into the wish list field and click on the "Search" button. From your teacher's wish list page, you can then add the books directly to your cart for purchase.
Read-a-Thon: March 1st - 8th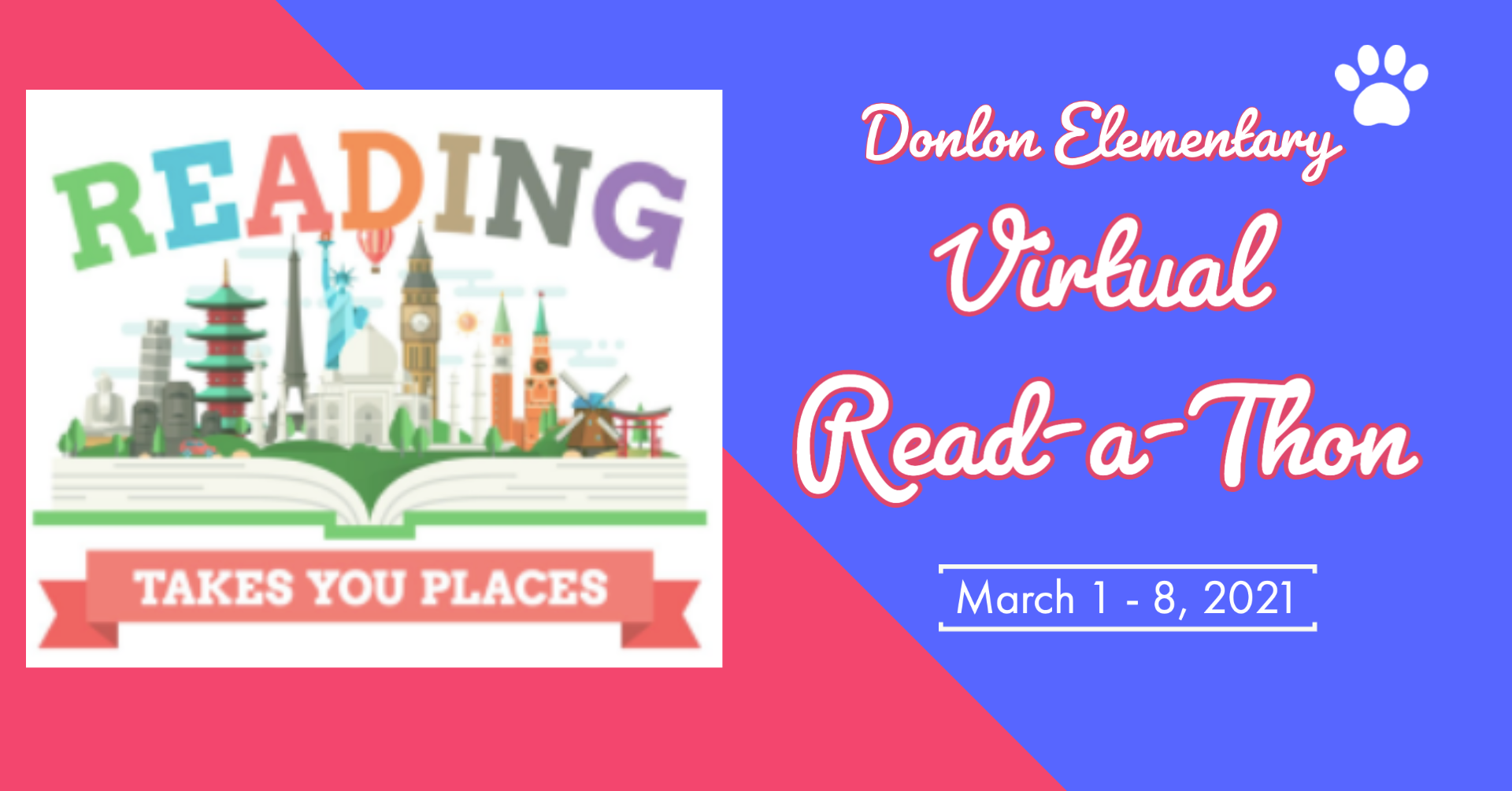 The Donlon PTA is excited to announce our first-ever Read-A-Thon in conjunction with Read Across America week. Registration begins tomorrow!
February 22: Registration begins for the Read-a-Thon. Register your child to be eligible for raffle prizes. To register and begin collecting donations, go to www.pledgestar.com/donlon
March 1 - March 8: Track your child's reading minutes for the week. Enter reading minutes in PledgeStar.
March 9 - March 14: Finish collecting donations! And make sure all of your child's reading minutes are logged in PledgeStar to compete for class and individual prizes.
Visit Donlon Elementary Virtual Read-a-Thon 2021 for more information.
JOIN THE 2021-2022 DONLON PTA BOARD!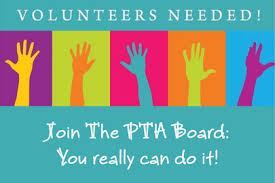 We are currently looking to fill our PTA board for next school year. We have many PTA board members leaving their roles due to their kids leaving Donlon and we'd love to get these positions filled. Being a part of the PTA board is a great way to give back to our Donlon community and help shape how our organization helps support our school.
The board is filled with parents just like you. We cannot continue to support our school without your help. The commitment level of each role can vary, however with a full team we can help each other and be sure that as many voices as possible are heard and give their input. There is no better way to help your school, and in turn help your student, than to join the PTA board!
The Nominating Committee is recruiting for the following board positions below:
President

Executive Vice-President

VP of Membership & Volunteers

VP of Activities & Community Service

VP of Fundraising

VP of Communications

Treasurer

Financial Secretary

Secretary

Auditor

Parliamentarian

Historian

PPIE Representative
Visit Donlon PTA Board Descriptions to view a brief description of all PTA Board Positions.
Please contact Executive VP Cynthia Sandhu, VP of Membership Andrea Wilson, Treasurer Anita Sharma, or Lana Lewis for more information about open board positions.
ORDER YOUR 2020-2021 DONLON YEARBOOK NOW!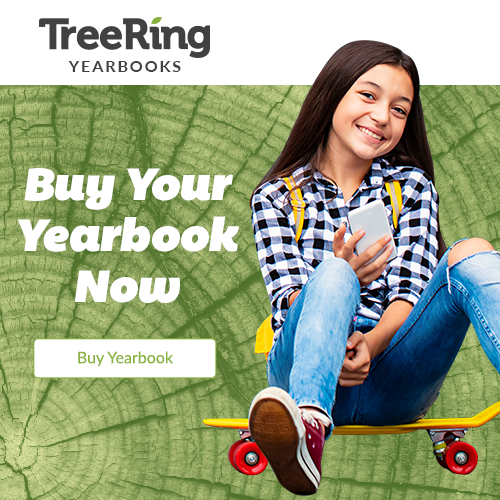 Our Donlon yearbooks from TreeRing are special in that you can customize two free pages with pictures and memories of your own child. Plus for every yearbook ordered, a tree will be planted in our school's name via Tree for the Future.
To purchase and customize your yearbook:
Enter school's passcode:

1015924981461695
Regular Price: $25.00 (incl CA Sales Tax)
Purchase by March 31.
Questions? Please contact yearbook.donlonpta@gmail.com
PPIE NEWS

2021 Virtual Run for Education: April 11-18
Register here or on ppierun.com for our 9th Annual Run for Education
Run, walk, bike and more AROUND THE WORLD with your friends, family, school and the entire community.
Weekly drawings every Monday (starting February 8) for early registration with great prizes

Discounts at selected local businesses for everyone who wears the shirt

Group competitions (and easy tracking from your phone)

Suggested routes around town - with updates as we Race around the world!

Great gifts bags, and more!

50% off for PUSD staff

Early bird registration ends March 15.