Want to have school smarts? We've got you covered!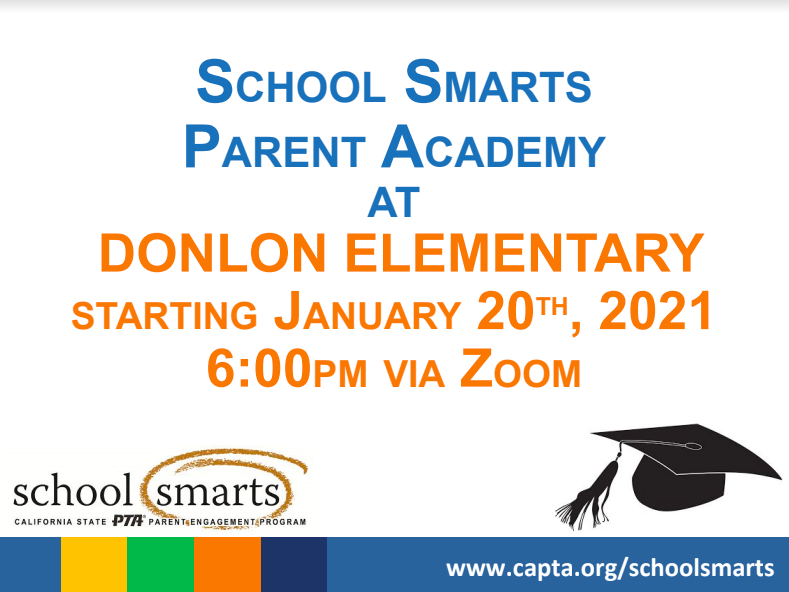 The Donlon PTA encourages all parents and guardians to take part in this FREE program! School Smarts is the California State PTA's research-based, award-winning program that promotes inclusion and meaningful parent engagement. It helps parents from all backgrounds gain knowledge and skills to be more effective advocates and leaders on behalf of their children and all children at Donlon Elementary.
Session 1:

1/20/21, 6-8pm

Session 2:

1/27/21, 6:30-8pm

Session 3:

2/10/21, 6:30-8pm

Session 4:

2/24/21, 6:30-8pm

Session 5:

3/10/21, 6:30-8pm

Session 6:

3/24/21, 6:30-8pm

Session 7:

3/31/21, 6:30-8pm
Google Form Registration: https://docs.google.com/forms/d/1Dh4kcH9mIFINCiD2TNFSfHf25RwYUqDW1g7x8RugJ8c/edit
For the last 4 years, the School Smarts Program at Donlon has sought to teach parents about the ins and outs of the education system and how we can best help our students navigate all the way through to college. The Program also strives to create meaningful and diverse parent involvement, and a strong community where all feel welcome and participate.
This program answers questions such as:
How is our public school system organized?

How can your child succeed at Donlon and beyond?

How will your child's progress be measured?

How do you build strong communication with school staff?

How are decisions and policies made at Donlon?

How can you initiate the changes you want to see around school?
Our students have been learning virtually this year, however that has not only affected them. Parents can no longer chat during pick up and drop off, or casually drop into the office or classroom to ask a question. We as parents are also missing the connections that happen on campus, and hope that this virtual class can help bring parents together again and feel part of our strong Donlon community! Although this class will be run on Zoom (and we might already be sick of being on the computer) we especially hope to create an open forum where people can get to know one another and can have an open dialog with the facilitators and various administrators and speakers who come to each session.
As a graduate of the School Smarts program myself, I can say that my husband and I found the program very beneficial and the information invaluable. Here is what some other program graduates have had to say:
"We really enjoyed being a part of a community eager to learn and participate in our school system" -Jaime Jackman
"School Smarts is a wonderful program for parents who are new to the public school system. It gives more insight about the various programs offered by the district. It helps parents to understand how the funding happens and how things work in the school system. It also helps parents to learn more from the actual leaders that work for the school system (principal, vice-principal, superintendent, PPIE director...) who come and educate parents about their experiences" -Dharshna Gowri
"I enjoyed School Smarts. I met my kid's teacher's boss, the teacher's boss's boss, and many people who care about my kid's education." -Chuck Chang
If you are interested in attending, the first virtual session will be heldon Wednesday, January 20th, 2021, at 6:00pm. Attached is a PDF presentation with a little more information about the program and individual sessions.
If you have further questions, please feel free to email me at cynthiasouto@gmail.com. We're looking forward to bringing School Smarts to Donlon for the fifth year, and hope to meet many of you in the coming year.
Sincerely,
Cynthia Sandhu
School Smarts Facilitator at Donlon and PTA Executive Vice President