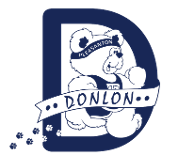 This is a very important FUNraiser for our school, and a great opportunity for our students

to focus on fitness and to show school and classroom spirit!
We'll need lots of help in the classrooms and out on the fields to make this a successful event.
All children in grades K through 5 will run for fun on the Donlon fields,
while also raising money for our school.
Students are encouraged to get friends and family to pledge money for the laps they complete. Parents and out-of-town relatives can also sponsor and send in a Donlon "Paw" for encouragement (please see document below).